(Originally published on Huffington Post)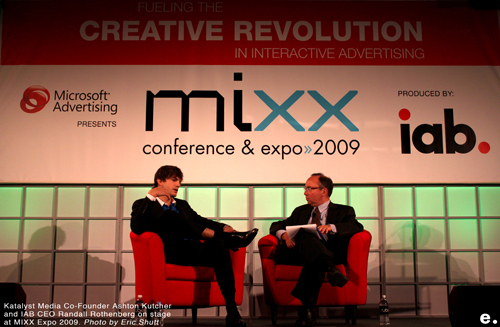 Ashton Kutcher closed Advertising Week's IAB MIXX Expo in NYC yesterday with a new look at some of his work you may not know — a social media agency called Katalyst Media.
Kutcher made waves on the internets this past April when he beat CNN to a million Twitter followers. Some saw it as a self-centered promotional stunt, and AdAge criticized it as an old broadcasting model of one-talking-to-many in a new, interactive media environment.
But to Kutcher, the Twitter feat — and Katalyst Media — were about today's central question in the world of media: who controls media's future?
"There was this tremendous opportunity to show that one person can have the same reach as an entire network," Kutcher said on stage at MIXX.
So he took that idea and started Katalyst, "a studio for social media" that pairs brands like Kellogs with social issues like hunger in America (36 million people go hungry in America every day, he says — referencing this Kellog's video clip directed by wife Demi Moore) to create new media campaigns with social impact.
Katalyst, said Kutcher, is all about empowering individuals to influence media in a way that's never before been possible. "We're now the creators, producers, broadcasters, and consumers of this content," he said. "It's sort of this unknown frontier … anytime there's a new landscape where you can reach people, you can be a leader."
"We're turning people who are advocates into people who are advocates for brands they believe in," said Kutcher. "We're building bottom up strategies … to [combine] the insights of marketers and consumers … to allow a one-to-one interaction with their favorite brands."
And there's the question: will new media be powered — at it's core — by brands and marketers, or by individuals and social groups?
Katalyst is a marketing agency. It's tapped the power of the people to influence important social issues like hunger. It's also empowering people to choose the next television commercial aired by Mountain Dew — which is kind of cool, but who does it help?
The Katalyst campaigns Kutcher covered at MIXX all combined popular influence with popular brands to create brand-centered media. And to be fair, that's no surprise — Katalyst is an advertising agency focused on using social media, presenting at one of the best advertising conferences in the country. Advertising's the deal.
But it offers a look at the answer to the of question of who's next in line to control the future of media.
Katalyst's campaigns wouldn't work if we didn't play a part in making them come to life. Marketers and advertisers are well poised to bombard us with messages about what's most important in our lives — and we're the ones who'll have to decide which ideas will fly.
We control the social media message by how we interact online. Social media is at the center of one of the greatest shifts in the history of how we communicate — and it's up to everyone to choose how we use it.
"You open yourself up a little bit and you'll take some dings … but if your intention is right, it works," said Kutcher.
Agencies like Katalyst offer a greater push and extended opportunity for brands to be more socially responsible. And, transparency in social media will help hold brands accountable to their claims.
Katalyst uses the same social media tools available to everyone else. We control how we participate. If we step up to the plate with social media agencies like Katalyst, the future of media may work for everyone.
What do you think? Add a comment below on who you think controls the future of media.
This article is part one of a series on insights in advertising and media from IAB's MIXX Expo at NYC's Advertising Week. Get the rest with automatic updates by clicking your update preference at the top of the article.