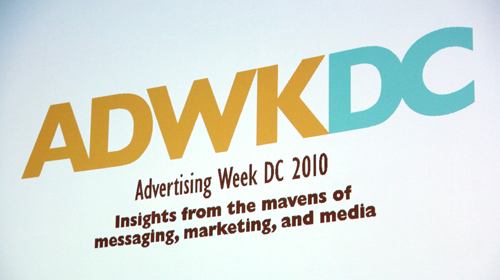 Mavens of messaging, marketing, and media are gathered at ADWKDC this week, as Washington D.C.'s Advertising Week kicks off downtown at The National Geographic Society.
The ADWKDC schedule features events like the domestic premiere of the winners of the 2010 Cannes Lions International Advertising Festival, and panels like "Crowdfluencing": Turning Digital/Social Conversations into Actionable Insights.
Moderated by Jonathan Kopp, Partner/Global Director at Ketchum Digital, "Crowdfluencing" panelists included: Melyssa Plunkett-Gomez, VP of Business Development at Crimson Hexagon; Mike Spataro, Senior VP of Client Strategy & Channel Partners at Visible Technologies; and Lauren Vargas, Senior Community Relations Manager at Radian 6.
So, what's the inside scoop on social media monitoring, measurement, and analysis?
Start Smart.
Too often, companies put too little thought into social media before starting a conversation monitoring program, says Mike Spataro of Visible Technologies. More prep work up front, he says, will yield better results in the end.
"Find out what tool works best for you … how does social media fit into your overall business goals?" says Lauren Vargas of Radian 6. She adds "there's only one equation for ROI … the question really is: What do you want to do, what do you want to get?"
Setting clear goals for social media that are tied directly to a company's business goals are a smart start to engaging in the social media conversation.
Follow a strategy.
In the spirit of a good plan: choose wisely. "It's really going to be different for every group," says Vargas. The specific work outlined in a social media strategy should be tied directly to both social media and business goals.
Vargas suggests that to start, companies may want to pick only one or two outlets to monitor and analyze. For example, what's happening in the conversation about your business only on Facebook, or Twitter? If you have the capacity to monitor both, how are the two conversations different?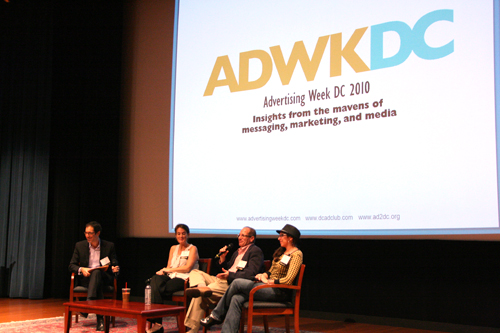 "It's about how you're integrating across your organization," says Vargas. For example, Radian 6 connects with the
SalesForce
CRM to integrate social media and customer service.
A carefully crafted social media strategy that considers business goals and marketing needs across the entire organization is a starting point to social media success.
Watch New Trends.
One of the biggest gaps today in requests by clients and media agencies for new social media services centers on new questions about engagement. Should agencies be responding in social media outlets on behalf of brands and clients? "That issue is really sticky right now," says Vargas.
New requests for open APIs – digital tools used to monitor and aggregate content like customer call data and email – is one the biggest trends seen today by Melyssa Plunkett-Gomez at Crimson Hexigon. She predicts the next hot topic in digital will be "real-time market research."
Similarly, Vargas predicts the next new trend will be "insights across integrations" – matching social media data with metrics collected in other areas of organizational management, to achieve a deeper analysis of marketing data.
Ultimately, the future of social media monitoring may be "predictive analysis." At least, that's what Spataro … predicts. Of course, we'll need to see the data, first.
Follow the ADWKDC conversation on Twitter @ADWKDC or search #ADWKDC.